Ahmed Antimony Project
Morocco, Africa
OVERVIEW
Summit Minerals' Ahmed Antimony Project is located in Morocco, about 42 km northeast of Khouribga and 115 km southeast of Casablanca, in an excellent mining jurisdiction and the only African mining jurisdiction to be ranked in the world's top 10. The Project provides walk-up drill targets and a significant early mover advantage within proactive mining regulation in this politically and financially stable jurisdiction. Direct access to the project area is via road R311 joining the city of Oued Zem to the Moulay Bouazza township.
In addition to confirming high-grade antimony at Ahmed, Summit anticipates further opportunities through Morocco's excellent exploration potential across various commodities, with rock chip sampling also identifying antimony and copper-bearing rocks. Outcropping mineralisation and the very high-grade mineralisation returned from sampled rocks at the Project attest to the mineral prospectivity at Ahmed, which sits in a mineralised contact extending over several tens of kilometres.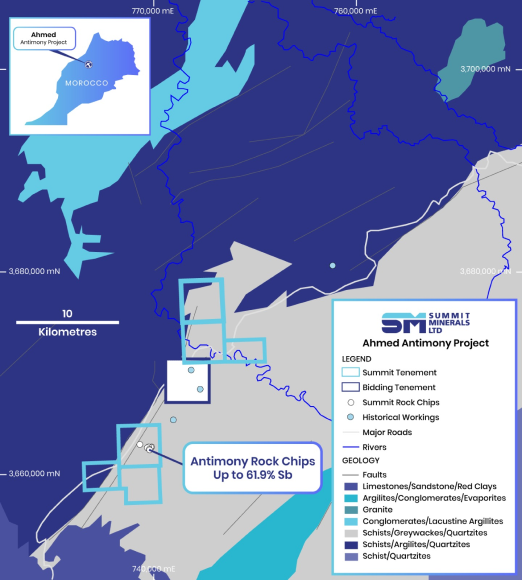 Summit's high-grade Ahmed Antimony Project includes 6 exploration licenses covering 79km2 in central Morocco
Recent assay results include 61.9%, 44.5%, and 39.4% Sb from rock chip samples, confirming prospectivity and providing immediate drill targets
Geological mapping & rock chip sampling has been completed, identifying antimony and copper-bearing rocks
Stream sediment geochemistry outlined anomalous gallium (Ga), with values up to 5.56ppm, extending over 5 km length

Results from stream sediment survey are being assessed
Outcropping massive stibnite mineralisation was highlighted by the Company during due diligence
The project contains several historical and recent artisanal mine workings
Drill ready with permitted under-exploration licenses – to target antimony mineralisation associated with a regional fault
Year-round access to the project via sealed and unsealed road
Morocco ranked the best place for mining investment in Africa and 8th best globally (and the only African country in the top 10) by the 2021 Fraser Institute Survey
Moroccan Government created a 2016 modern mining regulatory framework to take the jurisdiction closer to global best practices and triple the mining sector turnover by 2025 to $1.5B
The antimony mineralisation resides in a substantial dilational jog developed in a regional NNEstriking fault, the Smaala-Oulmes Fault. Antimony, occurring as semi-massive stibnite (antimony sulphide), is widely distributed throughout the dilation zone, providing favourable mineralisation sites. The mineralisation is often associated with quartz veins that cut through the host rocks. The quartz veins can range in thickness from a few centimetres to several meters and contain high concentrations of stibnite as disseminated grains within quartz or as massive aggregates that fill the veins. The metamorphosed host rocks are a mixture of shale, sandstone, and siltstone.
Summary of Due Diligence Rock Chip Results (ALS - Spain)
Summit and in-country partner Ashgill Morocco have completed the geological mapping and rock chip sampling campaign, idnetifying occurrences of stibnite (antimony) mineralisation in the southern and northern research licenses, and copper sulphides (chalcopyrite, bornite) and the oxides malachite and azurite in the northern research license.
Assessment of the stream sediment geochemistry highlighted several areas of anomalous gallium (Ga) results, including an area that extends over 5km in length and corresponds with a structurally disrupted zone. Anomalous Ga, with a peak result of 5.56ppm, was returned from 10 samples draining various points along the length of the structure. Gallium numbers range between 1.335 to 5.56 ppm, averaging 2.45 ppm.
Several intensely altered alkaline intrusive plugs or stocks are emplaced along the faulted quartz-filled contacts between sandstone and sulphidic graphitic shale raising the potential forskarn mineralisation, which are economically valuable as sources of metals such as tin, tungsten, manganese, copper, gold, zinc, lead, nickel, molybdenum and iron.