Castor Lithium Project
James Bay Lithium District, Quebec, Canada
OVERVIEW
In July 2023, Summit Minerals signed a binding term sheet to acquire 80% of the Castor Lithium Project, with a landholding over 118km2 in the prolific James Bay Region of Québec, Canada.
The project lies in the world-class lithium-caesium-tantalum pegmatite province, and has never before been explored for lithium. It comprises 232 mineral claims over three contiguous claim blocks within the northern end of the Yasinski Lake Greenstone Belt, the same greenstone belt which hosts lithium mineralisation at Ophir Gold's Radis Lithium Project (TSX-V: OPHR) and Q2 Metals' Mia Lithium Project (TSX-V: QTWO), respectively located 18km and 32km southwest of the Castor Project.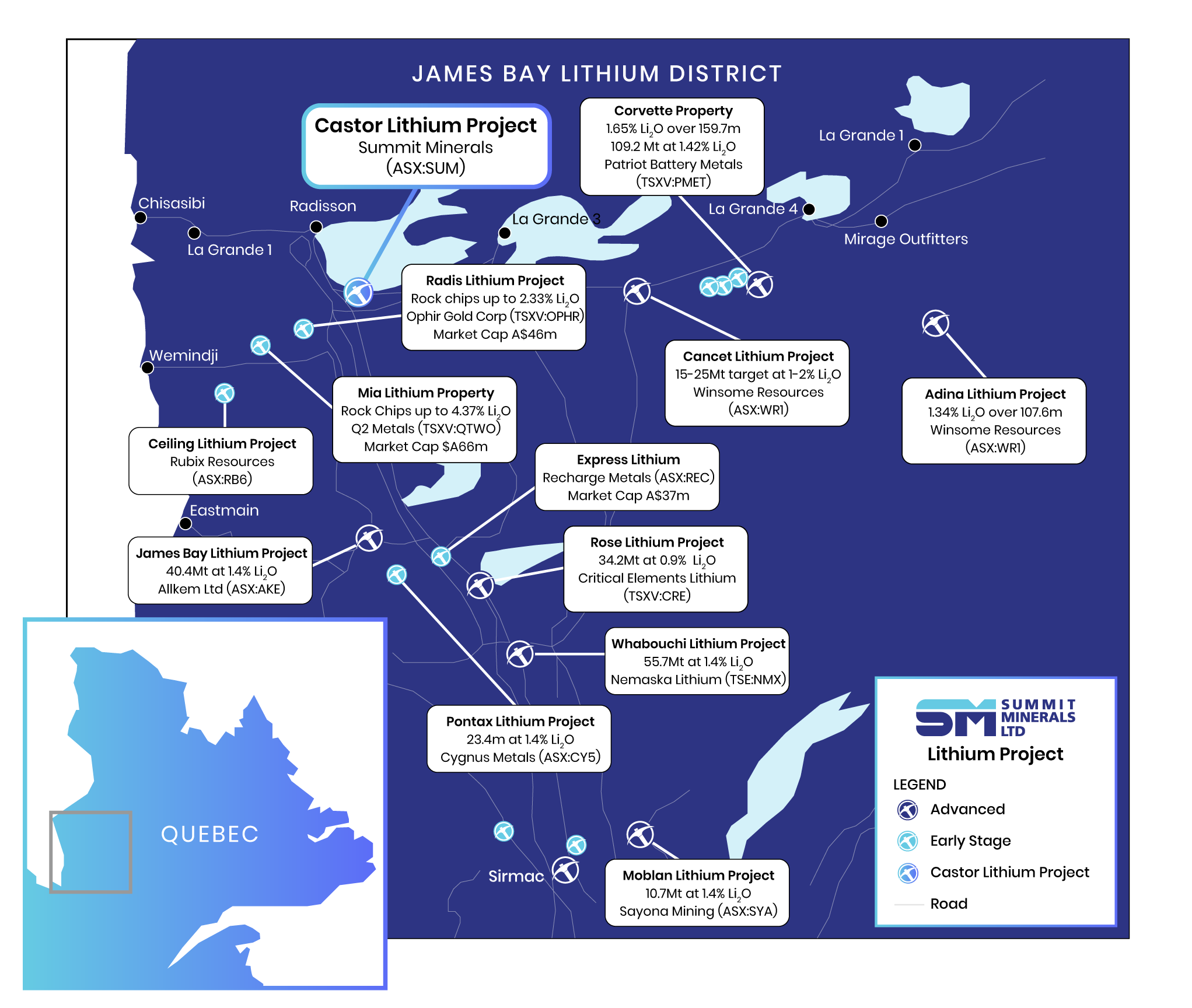 Summit acquired 80% of the Castor Lithium Project in September 2023
Located in northern portion of the Yasinski Lake Greenstone Belt, also hosting:
Q2 Metals' (TSX-V: QTWO) Mia Lithium Project - Up to 4.37% Li201

Ophir Gold's (TSX-V: OPHR) Radis Lithium Project - Up to 2.33% Li202
228 potential lithium pegmatite outcrops identified via interpretation of Sentinel-2 multispectral imagery, with field exploration currently underway
The Project covers an impressive 33km strike length of the Yasinski Lake Greenstone Belt and hosts several mapped pegmatite occurrences
Close to major infrastructure, located on the allweather James Bay Rd, 30km from the Grand River Airport and 60km from the town of Radisson
James Bay is a world-class lithium-pegmatite district hosting significant projects
Allkem's Deposit (ASX: AKE) - 40.3Mt at 1.4% Li2O3

Nemaska's Whabouchi Deposit (TSE: NMX) - 36.6Mt at 1.3% Li2O4

Patriot Battery Metals Corvette Property (ASX: PMT, TSX-V: PMET)
Project vendors include:
DG Resource Management (DGRM)

Mining entrepreneur Kal Malhi of Bullrun Capital
Critical Discoveries have been contracted to provide management and exploration services for the inaugural field program
2023 exploration program has been fully funded through a heavily oversubscribed $1.5M placement
PROJECT GEOLOGY
Yasinski Lake Greenstone Belt
The Castor Project is situated in the La Grande subprovince within the Archean Superior province of the Canadian Shield in the James Bay area of northern Quebec. The La Grande domain consists of submarine volcanic rocks like the Yasinski Group and sedimentary sequences overlying the tonalitic gneiss basement. This package is intruded by intermediate to felsic plutonic rocks. Neoarchean granitic intrusions and Proterozoic diabase dykes cut all domains.
Several bodies of pegmatite are located on the Project, according to the provincial SIGEOM database. The area captured by the project needs more modern systematic exploration, and lithium exploration has yet to be undertaken. The Project has the potential for lithium-bearing pegmatite, orogenic gold, Ni, Cu, Cr, and PGEs.
The Project is underlain primarily by a sequence of iron formations, clastic sedimentary rocks, and volcanic rocks that form the Yasinski Group and represent a typical greenstone complex within the La Grange domain. The volcano-sedimentary rock units are surrounded by large plutonic bodies, including the Duncan Intrusions, described as ranging compositionally between tonalite and monzonite. All the rock units in the area have been crosscut by late ultramafic sills and dykes, pegmatite and feldspar porphyry dykes, and quartz veins.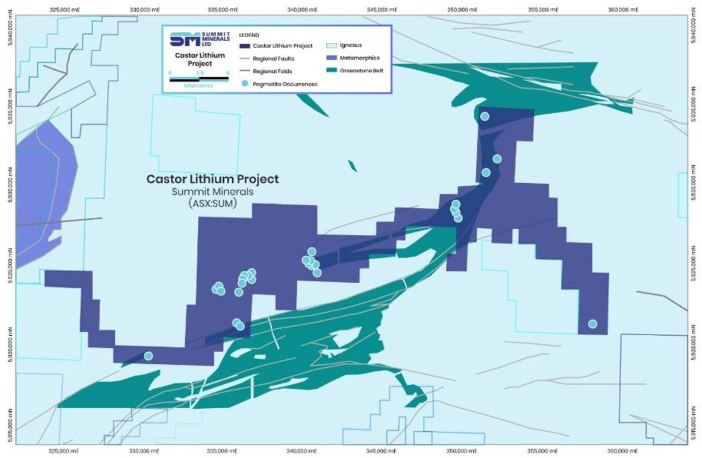 Following the identification of 228 potential lithium pegmatite outcrops via interpretation of Sentinel-2 multispectral imagery, field exploration is currently underway, with Summit to conduct helicopter-supported property traverses to map and collect rock chips from the pegmatite occurrences and the interpreted Sentinel and SAR targets.